NHS Long-term plan report for Bury
In this report, we gather, analyse and present a comprehensive set of responses from the people of Bury on some of the key the topics raised in the NHS Long Term plan.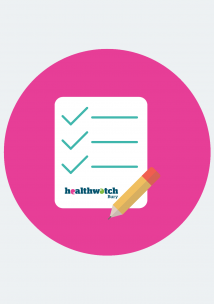 Summary
This report has looked at the responses to the Healthwatch general survey and general focus groups held across Bury following the publication of NHS 10 year plan. 
People were asked to consider four main areas for this research. The areas chosen were prevention, personalisation, care closer to home, and technology, these areas cover the broad themes within the NHS 10 year plan itself.
Key findings
The main issue was a desire for GP and other medical services to be responsive to the need for timely appointments.
There was concern amongst some for the elderly and how they would be treated. It was also recognised that more funding might be needed to achieve a better quality of care service.
People felt that technology could be a positive solution to identified problems in the healthcare system. For example technology might be employed to allow appointments to be managed more easily, with availability made clear, and avoiding long queues on the telephone.
This report is focussed on Bury and forms part of a larger piece of work that covers the whole of Greater Manchester. Produced collaboratively with the 9 other Local Healthwatch that cover the rest of GM, there are a total of 7 reports. 6 covering speciality areas and one which looks at the overall picture of the NHS Long-term plan.