'Park bench' surgeries launched by Healthwatch Bury - as featured in the Bury Times
A SERIES of 'bench surgeries' have been undertaken so a health watchdog can gauge public reaction to health and social care services.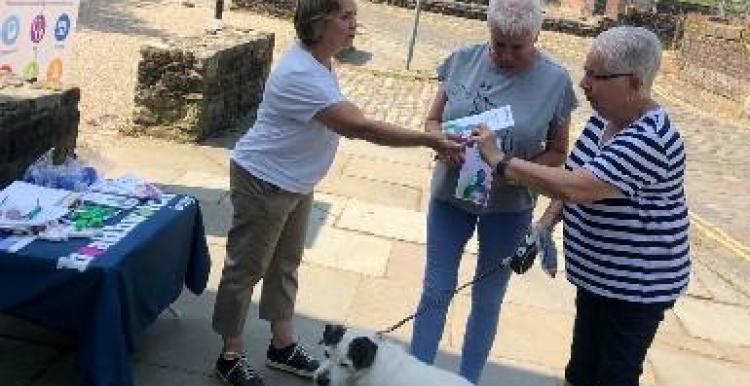 Officers from Healthwatch Bury have been sitting with members of the public, listening directly to their experiences and feedback.
One session saw public participation co-ordinator Annemarie Poldkivi sit down at a bench in Clarence Park with banners as part of the exercise.
This is the third park bench surgery which has been held, with the first taking place at Close Park in Radcliffe and the second at Burrs County Park and Greenmount Village Green.
The role of Healthwatch is to improve the state of health and social services through gathering feedback from the public.
Annemarie said:
After the pandemic and so many people living in isolation, we thought it would be a good idea to step out there and engage more directly with members of the public.
"We noticed while the majority of the feedback was very positive, a minority of people struggled to get access to online digital health services, not just elderly people but this was a real mix of people of all ages.
"But much of the feedback was really good, with many saying they found they received prompt responses from their GPs with either prescriptions or online appointments.
"I think these park bench surgeries have so far, and will continue to be, a great opportunity to engage with local people and have a positive impact on social service for everyone.
"As a whole, they have been very successful and I hope that, in the future, we could go on to have joint events with other health organisations."
Adam Webb, chief officer of Healthwatch Bury, added:
"It is important for us to hear from every kind of person in Bury about their experiences with health and care, regardless of how unimportant people may think that they are.
"We can use what we hear from them to improve that experience for others.
"This is one of the really useful ways in which we can do that, by interacting with people from all walks of life.
"We fully intend to keep on running these surgeries in various parks throughout the borough and we would really love for people to continue coming along."
We are delighted to welcome Katherine and Shirley to Healthwatch Bury as our new Engagement Officers.
You can get in touch via:
katherine@healthwatchbury.co.uk 
0161 253 6300